Loading
This may take a few moments,
please wait.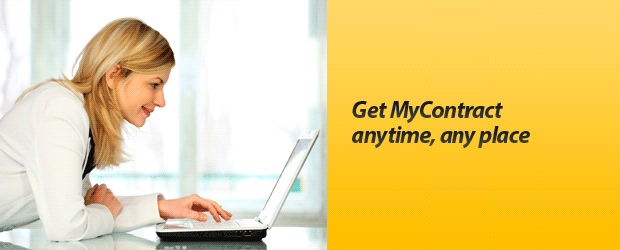 Welcome to MyContract - your online self-service portal where you can access and manage your MTN contract (post-paid) accounts.
Here you'll be able to view and manage your spending easily with our handy bill and usage monitoring tools – for your convenience they're available 24/7. This means you'll be able to check your most-dialled, most expensive calls and see how your call time is being used – no more scratching your head, wondering about your cellphone bill.
It gets even better, as you are now able to customize and run billing batch reports and submit queries online too! The best part? No call centres and no hold music – everything you need to do, all in one place.
Benefits:
Convenience of personally managing your accounts and value-added services
Accessible 24/7 which saves you time!
You can also:
Add and remove value-added services
View bundle balances
Update your details
Manage your phone book
View your PUK number
For more information, or assistance with MyContract, please call 083 123 1761 from your MTN cellphone.